If you're planning on moving to Montreal, know that you will be staying in Canada's second-largest city, as well as a fourth-biggest hub in North America in terms of aerospace employment. With more than 248,000 students, it is also a great place to earn a degree. Diversity of opportunities and affordability are what make this city one of the top choices when it comes to relocating abroad.
You Can Be a Homeowner
Have you decided on international moving because you want to become a homeowner? Luckily for you, financial services company RBC has published a report on housing trends and affordability, which shows that buying a property in the city is more affordable than it has been in the last ten years.
According to data collecting site Numbeo, you will need around $530 per square foot in the center and around $320 for locations away from downtown. If you are still on the fence about buying, renting a place is a smart option as well.
Renting in Montreal Is Affordable
When you opt for renting instead of buying, one of the things you should know is that according to data from Numbeo, average rent in the center is around $900, while for a three-bedroom flat, you will need to pay $1,600. If you are considering other Canadian cities as well, know that the rent here is 10% cheaper than in Ottawa, and 40% cheaper than in Toronto. If you want to save up, carefully choose your neighborhood; some of them have more affordable housing than the others.
Pick the Neighborhood That Will Make You Happy
The metropolis is divided into boroughs, which are further divided into colorful and diverse neighborhoods. The perfect spot should fit all of your needs and allow you to pursue whatever kind of lifestyle you choose for yourself.
If you are relocating with your family, consider some family-friendly locations such as Rosemont and West Island. On the other hand, if you are moving to another country for love and you want to live in a modern and trendy area with great date night spots, consider Ville-Marie.
Can You Live in Montreal Without Speaking a Word of French?
The short answer: of course you can, but you may run into some severe communication issues soon enough. French is the official language here, spoken at home by almost half of the population. If you want to break the language barrier, start learning while you are still in the process of packing.
One of the things to consider when relocating is that there are many benefits to learning a language abroad. You will be living in one of the most bilingual cities in Quebec and all Canada. Use that fact and try talking to locals, and listen to them speak – learning the language will help you fit in and advance in your career faster.
There Are Several Ways You Can Get to Vancouver or Anywhere Else in Canada
Did you know that around 90% of Canadians live in urban areas within 100 miles of the US border? Nevertheless, this is a huge country, and if you have friends in Vancouver or Toronto that you want to visit, there are plenty of ways to do so.
If you ship your car to your new location, you might as well drive across the country and reach your friends. Stoke up on fuel because this trip might be long and tiring. That's why there is a Pierre Elliott Trudeau International Airport you can use to book a flight and go anywhere you want. Via Rail Canada also provides you with a flagship train named The Canadian, that can take you to Toronto.
When you are not traveling across the country, you can use your car to drive around the metropolis, or you can use a well-developed network of public transportation to get from one place to another.
Public Transportation Is Efficient
Living in the big urban metropolis gives you a variety of options to pick from when it comes to commuting. Public transportation and taxi services are both clean, safe, fast, and, most importantly, affordable.
The transit network is simple enough, so you won't get lost while trying to figure it out. With four lines and 68 metro stations, you will be able to reach every part of the city. If you can't find somebody to share a taxi with, or you don't want to share a space with other locals, you can always get a bike and ride it to work and back.
Are you thinking about moving to another country?
GET A QUOTE
This Is a Bike-Friendly City
While you are preparing for an international relocation, don't leave your bike in storage – you will definitely use it while living in Montreal. This is a city that has constantly been among the top-rated bicycle-friendly cities in the world, according to the website The Copenhagenize Index. With well-maintained bike lanes that are separated from the rest of the traffic, you can safely and easily travel to any part of the metropolis on two wheels.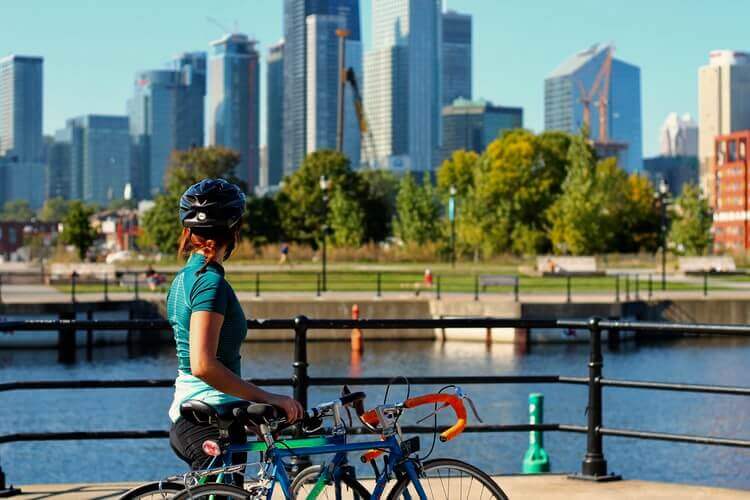 It's Ranked Among the Best Cities to Live in the World
You will be relocating to a place that has been on many lists of the best places to live in. InterNations survey showed that it's one of the greatest places for expats. Also, the website Big 7 Travel ranked it amongst the best spots for millennials. Consultancy QS Quacquarelli Symonds put it on the list of the greatest spots for students, so if you are looking for quality education, this is where you get it.
This Is a Great Place to Get Your Degree
There are four universities, seven degree-awarding institutions, and twelve CEGEPs in a five-mile radius, making Montreal a place with the highest concentration of post-secondary students in North America. From McGill and Concordia University to Université du Québec à Montréal and Université de Sherbrooke, you will easily pick the educational institution for yourself.
Getting a Job in Quebec Won't Be Hard
Quebec accounts for 20% of the total GDP of Canada, and it has an advanced, market-based economy. Montreal is the fourth-largest center for aerospace jobs in North America, but it also nurtures industries like software engineering, textile, pharmaceuticals, and tobacco. There is also a robust service sector.
You Can Find Entertainment on Every Corner
The cultural capital of Canada is a hub for french language TV, theatre, film, and multimedia production. People here can enjoy more than 100 annual festivals – from the largest jazz festival in the world to the largest comedy festival. Bask in the variety of museums and vibrant galleries, but also make some time for sports because they are a big part of the local lifestyle.
You Should Embrace the Sports Spirit When Moving to Montreal
One word – hockey! If you are not a fan already, you will learn to accept the overall excitement of the Canadians when a game is on. That's just how life is. Canadiens are one of the original six NHL teams, and they won 24 Stanley Cups. You can also spend time watching football, auto races, boxing, and tennis. And when the games are done, go out and have a beer or a nice dinner with friends.
Dine out and Try Different Kinds of Food
From traditional recipes that have been in families for decades to exotic dishes from all over the world, foodies will have a great time tasting everything local restaurants have to offer. No matter what you are craving, there is probably a dinner that serves it. From smoked meat sandwiches to veggie burgers, you can eat whatever you like.
Living in Montreal Can Make You Happy
You relocated up north, and the hardest part is over with. Now it's time to start adapting to a new environment and everything in it. Don't doubt your decision to leave the US; living here can make you really happy. There are plenty of job opportunities for career chasers and diverse entertainment options for adventure seekers. It might take a while, but in the end, you will see that relocation was the right decision.