Even if you've never left the country of your birth in your life, you probably know that you require certain validations to enter different countries. If you are considering traveling or moving out of the US, you will need a more detailed list of important documents needed to travel abroad. What you will require to make this trip when it comes to papers will be discussed in detail in the following paragraphs, so stick around and prepare for your international move.
Gathering Information and Insurance
Before making your trip or getting international moving services, you will have to gather specific information that doesn't only concern accommodation and destination details. You should know basic local laws, customs, how you will receive medical care if need, etc. If you plan on getting a rent-a-car or shipping your vehicle overseas, you will need to learn about driving laws and road safety. If you're staying for an extended period of time or more than ten days, it wouldn't be a bad idea to find out the location of the embassy, just in case. It's likely that you won't be able to avoid exchanging currency, but you should also ask about the preferable paying solutions there. Our advice would also be to turn on Google Alerts for that country or region and get informed as you go.
How To Stay Safe On a Vacation or Trip Abroad
Health and travel insurance is, by far, the most important precautionary step you can take when going away from your home country. No one likes to dwell on things that may go wrong, but the reality is that they sometimes do, and you may get sick or hurt being out there. So to be sure you're covered medically and in transport, find out as much as you can about acquiring the appropriate policies.
Tips On How to Acquire Documents Needed to Travel Abroad
Whether you're moving overseas or just taking a vacation, leaving the country has the same procedure set up for everyone. You will be checked, and your documents screened when crossing the border, whether it be on an international airport or a land point of entry/exit. While these papers will act as your ID card outside of your home country, you shouldn't part with them, and under no circumstance should you risk losing them. If you happen to lose or damage these, you will likely have a lot of trouble going back home.
Learn About the Rules of a Specific Destination
There are specific regulations in place as to how long your documents will be valid, or how recent your passport should be before entering another country. These regulations usually depend on the agreement between the two countries in question, and you will need to check with or contact the embassy of the destination to follow up on these rules. The papers you request should be according to the standards of the country you are going to, and in more cases than not, you might have to go to the embassy to apply for a visa.
Are you thinking about moving to another country?
GET A QUOTE
Tips On Taking Out Documentation On Additional Articles
While talking to the embassy officials, you should ask about this documentation, if you happen to need them:
Regulations on prescription medication: some medication is restricted or illegal in different countries, and if you happen to be on a prescription, inquire about your particular meds and the needed documentation.
Traveling with a pet: moving abroad with your animal companion will also require additional paperwork to be gathered, such as pet-passport and vaccination records. Check with both the embassy and your vet to make sure your beloved pet will be allowed to enter another country.
Consent for traveling with a minor: in case you're taking your child across the border, you will need the consent form signed by the other parent, but the requirements may vary. If you're taking someone else's child on the trip with you, consent from both parents is obligatory.
International driver's permit: Most countries don't recognize driving permits issued by other countries, but do recognize the International Driving Permit, or IDP. Ask the embassy officials where you can be issued the driver's permit that will be universally accepted.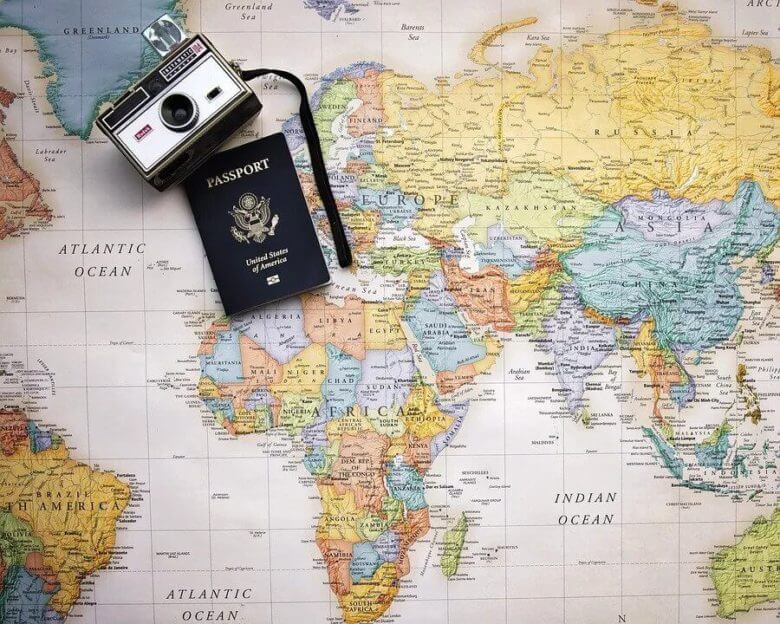 Additional Tips Related to Obtaining a Passport and Visa
We've already mentioned the importance of having your identification with you while traveling. However, we don't want to leave you confused about the purposes of this essential paperwork. To be able to leave the country, you must have a passport, as well as to be able to enter another country and re-enter the US. Passport is issued by the agency in your local jurisdiction, and it usually requires a completed application form, citizenship evidence, copy of your ID card, photos, and evidence of paid fees.
What Does a Visa Allow You?
Visas can be different in nature, but they are issued to passport holders and generally mean that the country of your choice has allowed you to enter for a designated time period. The most frequently-issued are tourist visas, but you've probably also heard about working and student visas. If you're planning to move to another country, depending on your status, you may file for one of these visas, or request a residence permit.
Staying Connected During Travel
There are, fortunately, some countries that allow US citizens to enter without this document, and you can read about what are the advantages of the Visa Waiver Program. These countries are more connected to the US in trade and politics, and they already have paths set up by a larger population of American expats that you can rely on.
Setting Out
We hope that you have just learned the essential information you needed to start gathering papers for your trip or move abroad. Once you are ready to set out from home and make your escape, don't forget to check if you have everything that the border police might want from you.