Hawaii is one of the most breathtaking states in the US. The magnificent landscapes, beaches, and exciting outdoor activities make it an appealing destination for travel and relocation. We are all familiar with the high cost of living there, but don't let it stop you from relocating. Here, you'll find a list of the cheapest places to live in Hawaii to give you an idea of where you should look for your new home.
Hawaii – The Most Expensive State?
Let's address the most frequently asked question: Can you live in Hawaii for cheap?
While it is true that most things cost 30% percent more than the US average, and that this is considered to be the most expensive state to reside in, it is possible to find spots that are much more affordable than you'd expect. So the answer is yes, you can live in HI without going broke.
However, if you want to stay on budget, you will probably be looking to relocate to a smaller town or less busy areas of bigger cities. If you're attracted to the peaceful Hawaiian nature, living in a smaller city might be an ideal option as you'll save up and enjoy your peace and quiet. It's especially beneficial if you're moving with dogs – they'll have all that nature to enjoy.
How Much Money Do You Need to Live Comfortably in Hawaii?
Once you decide on how much you'll be paying for your moving services and additional moving costs such as storage, packing, and so on provided by your chosen international movers, you'll need to organize your living budget for when you arrive. The amount you need for a comfortable life will vary depending on the island and the city you choose.
If we look at the overall cost ratio, Oahu is the most expensive island. The reason for this is that Oahu is the business center of Hawaii, with the majority of people living there due to job availability. The US Census Bureau estimates that the median household income on Oahu is $74,500, showing that the salaries are significantly higher than on other islands. Nevertheless, housing on Oahu is costly, especially in large business cities. For example, take Honolulu's rental value of a 2-bedroom apartment of $2,000 per month, which is 55% more expensive than housing on the Big Island. This is not surprising, as Honolulu is one of the most popular destinations and a business center.
Generally, the lowest housing costs are on the Big Island, which is considered the cheapest Hawaiian island to live on. However, the median household income is $52,000. If you're a driver and plan on shipping a car, you should be aware that gas prices on the Big Island are around $2.50/gallon, which is relatively acceptable compared to Maui, where the prices range around $3.50/gallon.
To conclude, the amount that you'll need really does depend on your place of choice as well as your utilities and additional costs. So before you relocate, check out the cost of living for the city or county to make sure your income will cover the costs.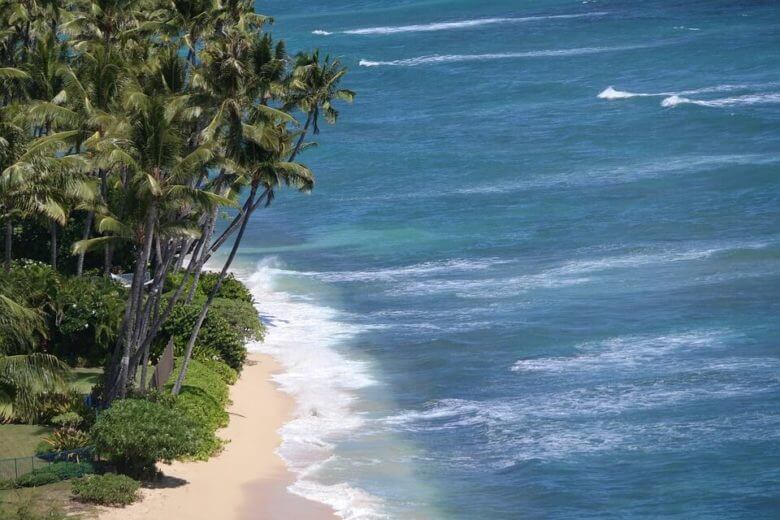 5 Most Affordable Places to Live in Hawaii
Here we have compiled a list of five most affordable places to live in HI, based on utility, housing, general costs, and livability. Maybe one of these towns is where you might want to relocate to:
Are you thinking about moving to another country?
GET A QUOTE
1.    You'll Love Hilo!
Hilo is considered the gateway to the Hawaii Volcanoes National Park, which is the home of the world's most active volcanoes. It also has various natural reserves, such as Liliuokalani Gardens, Japanese gardens and parks, and Wailuku River State Park, which is known for its rainbow falls, as well as numerous beaches for your outdoor enjoyment.
The city is located on Bing Island, HI, and has many shops, restaurants, museums, and art galleries. While the extremely rich inhabit this city, the average home price here is actually about $318,000, which is almost half of the Hawaiian average. Surprisingly, the costs in Hilo are 28% lower than the state average. You'll definitely find living options that fit your budget here as Hilo can be considered as the cheapest place to live in Hawaii.
If you're interested to know more about Hawaii's Volcanoes National Park, check out this video.
2.   Want to Be Close to the Beach? Kaunakakai Might Be for You
Kaunakakai has 37% lower living costs than the national average. However, you need to be aware that to live in Kaunakakai means going off the grid and experiencing the real Hawaiian lifestyle. The town is located on Molokai and has some of the best beaches in the Aloha State. It is a historic town with a scarce population, and due to the lack of job opportunities, it is recommended to those who can work remotely or from home. If you're a person who likes to be isolated and enjoy your peace, this might be just the city for you.
3.   Kailua on Hawaii Island Could Be Your Dream Place
Kailua Kona is located on the HI, not being confused with Kailua on Oahu, which is way more expensive. The cost of living is 11% lower than the average, with food and utilities slightly higher than usual, for the most part. However, housing is cheaper; you can purchase a house for just over $500,000. North of the coast, you'll find amazing beaches and famous golf courses if you are interested in that. The city is also the home of Kona Coffee if you're a coffee addict!
4.   Waimea on Kauai is a Perfect Place if You Love Small Towns
Waimea is located on Kauai, on the north shore between the beach and the Waimea Cannon. It has 22% lower living costs than the Hawaiian average. The town is rather small and has a variety of restaurants, only two supermarkets, and a few local businesses. The housing is cheaper; the median home cost here is just under $400,000. Utilities and food are also less expensive than the Hawaiian norm.  The local population is around 1,800 people, so you'll quickly get to know your neighbors.
5.   Waianae Is a Great Choice If You Wish to Live on Oahu
Waianae is an excellent choice for moving if you want to stay on Oahu because you'll be able to frequent Honolulu. While Waianae is more secluded, it's close to Kapolei, so don't worry too much about groceries and restaurants. The overall costs are 11% lower than the Hawaiian average, and you'll be able to purchase a house for around $322,000. It has the most fantastic beach and natural landscapes.
Ready to Move to Hawaii?
Aloha State is one of the most beautiful places in the world. If you're planning on relocating, you should definitely consider one of these cities as your primary destination. Surrounded by the enticing Hawaiian nature, each one of them has much to offer while being reasonably priced and full of adventure. We hope that our list gave you some insight. Call your chosen international moving company today, and best of luck and safe travels!